It's been a few years since I've introduced any major app upgrade and it's getting close to a new one. Some of you may be familiar with UctoX 2, an invoicing app that's been around for some time. UctoX 3 will be called Invoice Rex and should get into beta testing in the next month or two. Nevertheless, I've decided to offer a sneak peek at what's new.
What new?
Well, everything.
Written from the ground up using SwiftUI, Invoice Rex will be the same across all the platforms (macOS, iOS, iPadOS) and will be offered as a single purchase unlike UctoX which (due to historical limitations of the App Store) is offered as two separate purchases. Note that this will require macOS 13, iOS/iPad 16 or later.
Simpler and more compact UI. All fields are split into sections that are collapsible. When collapsed, however, they still offer a summary and quick action buttons that allow you to change things like dates, payment method, delivery method, etc. without expanding the sections. And this is saved across launches.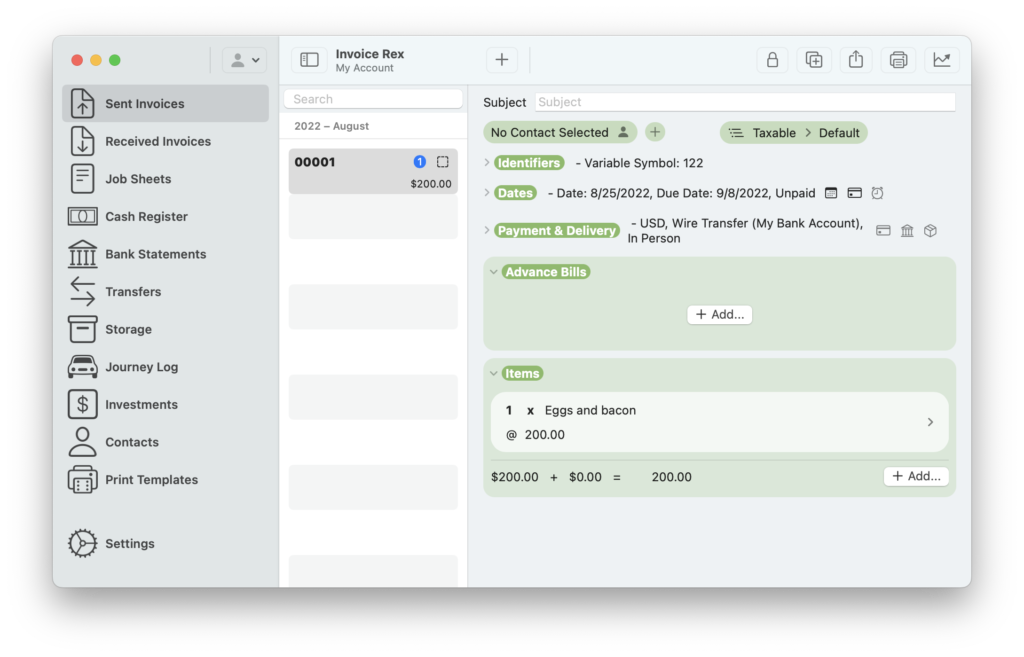 More robust settings. Settings now offer you to define all taxes that may be applicable to products and services you may be selling, including sales tax and VAT, but you can easily define your own tax with possible rates. You can now also define currencies, price for delivery methods, and so much more.
Improved storage. Storage now allows you to manage configurations of individual items, so that you can define the same item e.g. with a different purchase or selling price.
Document locking. Each document can be locked to prevent accidental modifications.
Improved print editor. Print template editing has been improved significantly – it now includes a circle, rectangles can define corner radius, which can be applied on images, and so much more.
… and so much more. This is the tip of the iceberg. The app has been rethought so that it can be used easily without too many distractions by unnecessary fields, yet more powerful than ever – you can now open the same account in multiple windows, open individual invoices and other documents in separate windows, so that you can easily compare multiple items, invoice book has been reworked with easier filtering and monthly/yearly bar chart for income and expenses, etc.
That sounds great, when can I get my hands on it?
Well, I hoped to get a beta out by the end of August, but as SwiftUI is a completely new way of developing UI, I have to admit that it's been taking a bit longer than I thought. I really hope to get a beta out in early October and if testing goes well, we can expect a November launch so that you can start 2023 invoicing in Invoice Rex.